FROM 2022 AND BEYOND...
BROXMOUTH COURTYARD
East Lothian's historic Broxmouth Park has big plans to restore its COURTYARD into a rustic, yet ultra-luxury space, tailor-made for weddings, so we say roll on 2022!
WEDDINGS AT BROXMOUTH COURTYARD
CEREMONIES IN THE CHAPEL
2021 will offer you the final opportunity to indulge in utilising Broxmouth House itself as part of your special plans, as the house's interior will no longer be available as we move into 2022.
The exciting news is that if you're looking for a rustic yet luxury feel for your wedding, we're currently preparing the perfect concept for couples looking further into the future.
We are currently restoring our historic Broxmouth COURTYARD into a stunning, purpose-built country wedding venue, to be completed just in time for wedding season 2022.
WEDDINGS AT BROXMOUTH COURTYARD
OUTDOOR CEREMONIES
Whether you're planning an intimate ceremony or a lavish reception, Broxmouth Courtyard is the perfect venue to make your wedding day truly remarkable.
With its magnificent gardens, woodland and lake, Broxmouth Courtyard offers an abundance of choice for your dream outdoor ceremony.
This award-winning wedding venue is situated in a micro-climate of its own, which experience some of the highest recorded hours of sunshine in the whole of Scotland. In fact, only one in twenty weddings last year experienced rain.
FACILITIES WITHIN BROXMOUTH COURTYARD
WEDDING GALLERY
The new venue includes a stunning ceremony chapel, separate wedding gallery, exclusive bar facilities, with an exquisite outdoor courtyard for your dreamy wedding drinks receptions complete with a private bridal suite for preparation.
The Broxmouth Menu Selector offers a plethora of luxury cuisines for you to design your own bespoke menu. With two selection for starter, main course and dessert, your guests will be spoilt for choice.
Allow us to help you plan your perfect dining experience with our classically trained Executive Chef.
FACILITIES WITHIN BROXMOUTH COURTYARD
ACCOMMODATION
This spectacular development will be also complemented by three beautifully appointed cottages with accommodation for up to 28 of your guests, in addition to the existing accommodation already being offered within our estate.
WEDDINGS AT BROXMOUTH COURTYARD
WEDDING DAY DINING
Food and drink are essential elements to the success of your day, with buffets, grazing and serving stations proving less popular or practical, we look forward to working creatively with you and our Executive Chef to find the perfect catering solution for your special day.
BROXMOUTH COURTYARD
YOUR DREAM WEDDING VENUE
Oh, the lure of great outdoors, venue full of character and a picturesque location… this is the vision, right?
Check out why Broxmouth Courtyard makes a perfect wedding venue!
10 YEARS OF WEDDING DREAM MAKING IN MEMORIES...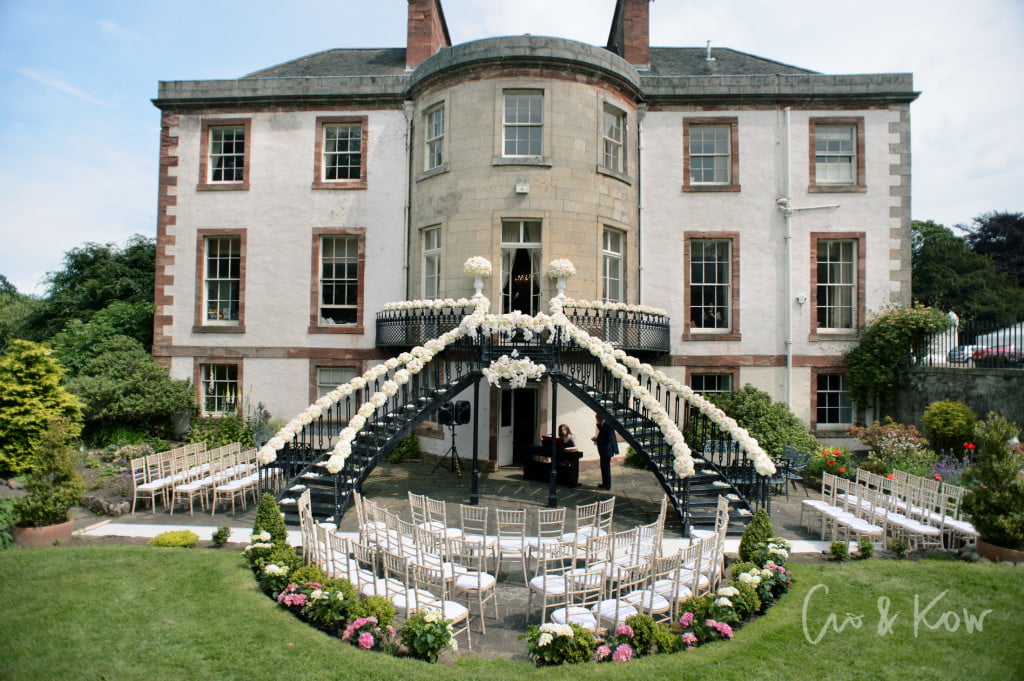 WEDDINGS AT BROXMOUTH COURTYARD
WEDDINGS AND EVENTS MANAGER
If we haven't met before my name is Oskar Gilchrist-Grodnicki.
Over the past decade I have been delivering and planning hundreds of weddings for luxury venues in Scotland.
Most of my clients are impressed with my industry knowledge, attention to detail and stress-free approach, leaving them to enjoy the fun parts of wedding planning and making the most of the time with their guests on the wedding day! As certified by awards from VOWS and Scottish Hotel Awards!
From the very first day we came o visit we were in awe of the beautiful setting and just knew this was the place we wanted to get married. You've been so kind and accommodating, letting us have our wedding our way...
Our day was beyond expectations! Everyone commented on the beautiful venue, the amazing food. The whole day went without a hitch + we wish we could do it all over again!
We cannot thank you enough for what was a truly spectacular wedding weekend. From the first time we visited Broxmouth, down to the last minute on site, your hospitality has been exceptional.
From our first visit we loved it here and the day exceeded our expectations. The whole day flowed so smoothly and everyone was so attentive. All of our guests absolutely loved it and we have had the best weekend.
The grounds and the venue speak for themselves, but without such amazing people running the show it would mean nothing. We loved the food served on the wedding and our guests were also giving it great reviews.
From the very first visit to the venue we felt very welcome and very at home. This venue just gave us that special feeling. The day ran so smoothly and we got nothing but amazing comments and Dunbar lived up to its name Sunny Dunny.
We couldn't have had a better time. The food was out of this world and the wine flowed with our very thirsty guests. Our highlight was nipping away on the speedy gold buggy to catch the sun setting over the lake; it was idyllic.
We could not have asked for our wedding day to be any better. Your hospitality, kindness and attention to detail has exceeded our expectations. You made us and our guests feel like at home and we shall be forever grateful!
Thank you very much for organising and hosting a truly spectacular wedding! The whole weekend was perfect from start to finish. We and our guests had a fantastic time together with you at Broxmouth!
You thought of absolutely every detail, and our guests have all said what an amazing day they had. The venue is spectacular and the staff were fantastic. Chef David and the team in the kitchen created some amazing food!
It's been the best day in our life. You and your team have gone the extra mile at every opportunity and made it a day to remember. Not only have you had amazing food, but the quality of the staff has been outstanding.
Fabulous venue, fabulous weather! We were so delighted to show off this lovely place to all our friends and family A highlight was definitely the tequila/ mexican bar outside at night + seeing the horse or the tree lit up.
Your team made an enormous effort to make sure everything ran smoothly - especially the last minute dash to relocate the ceremony thanks to that surprise rain shower! All of our guests loved the food, wine and venue!
Thank you for your warmth and hospitality during our stay with you. We had a truly wonderful wedding, everything that we had hoped for. A perfect location, great food and wine and a cracking team!
The wedding was better than we imagined. Our faces hurt but the middle of the day from smiling so much. The venue is beautiful and the grounds exquisite, we got married outside under a huge cedar tree.
You really went over and above! Thank you from the bottom of our hearts for making this the most special day of our lives! Broxmouth Park was the perfect place for our perfect day!
What a wedding! Thank you so very much for being amazing! We really felt at home and the entire atmosphere was just right! You have an amazing place here and the outstanding people to match it!
Thank you so very much for being amazing! We really felt at home and the entire atmosphere was just right! You have an amazing place here and the outstanding people to match it!
Thank you for the most wonderful weekend! The Friday night meal with our families was an absolute hit! Our wedding on Saturday was excellent - hats off to the Chef! You've even got a sunshine as promised!
Broxmouth will hold a special place in our heart! Thank you very much for making our wedding day extra special! 2 years in the planning, it was all worth it! Your hospitality over the whole weekend really made it truly unforgettable!